As a DJI Osmo Pocket owner, you probably don't need anyone telling you that it could easily be regarded as one of the best action cameras in the market. It not only has essential features that make it perfect for action shots, but it has a plethora of other features and accessories that come in handy for video recording as well. So what are the best DJI Osmo Pocket Accessories? As far as features go, maybe it is the 4K video at 60 frames per second that draws your attention.
Perhaps, it's the built-in gimbal that keeps all your shots smooth during action sequences. Whatever the situation is, there is no denying that the camera comes with amazing features for any aspiring photographer or filmmaker. And, the best part is the camera is more portable than ever.
On the outside, the camera might look like it has it all. There is simply no denying that it has quite a bit. You can do a lot with the camera right out of the box, but it does not have everything that a professional filmmaker might need to perfect his/her works. This is in part due to the fact that the manufacturers are always trying to give filmmakers the best tools possible.
The year 2020 is nearly half over, but the market has seen a lot of innovative changes and upgrade. Just check out the best DJI Osmo pocket accessories and how you can benefit from them.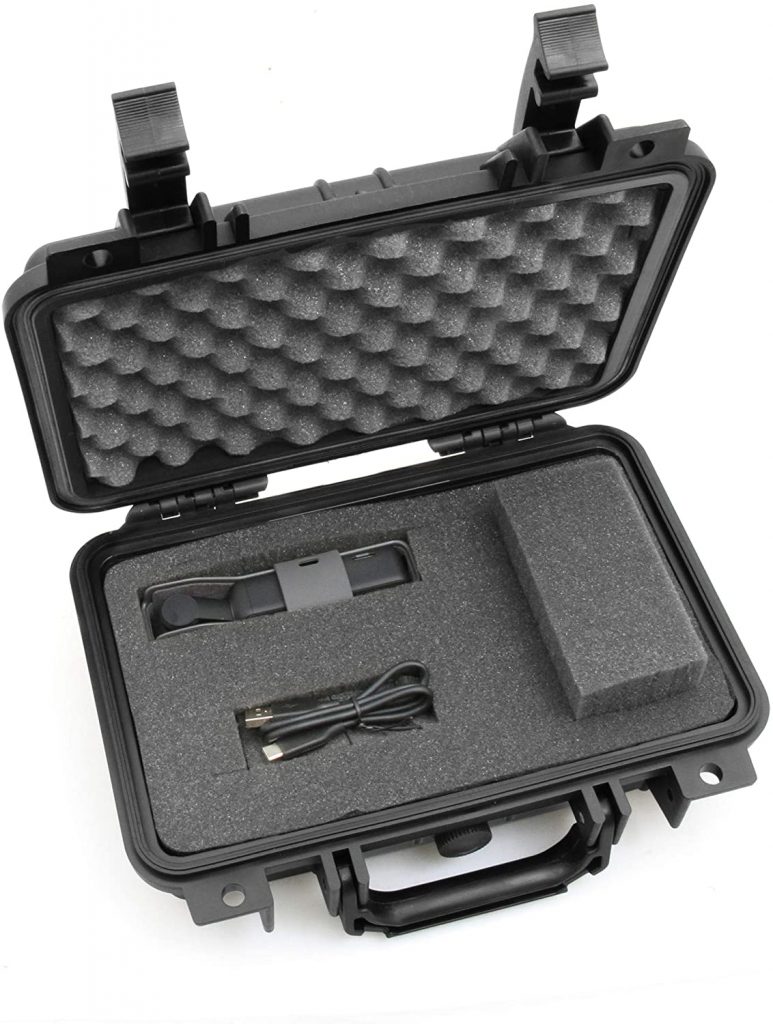 Any filmmaker that has experimented around with the Osmo Pocket Cam will tell you that it was built for rugged use. Just by holding the camera in your hands, you can clearly tell that the manufacturers took the time to ensure the product was built for durable situations. That being said, the cam is still no GoPro, which means that it will need to be handled with a bit more care. Whether you are storing your camera or taking it on the road with you for a shoot, you will want to ensure that it is safe. And, that is exactly what the CASEMATIX Waterproof Case can offer. It's a key out of all the DJI Osmo Pocket accessories.
This is an external case constructed of hard plastic material that will keep your Osmo Pocket safe for the outdoor elements as well as bumps and falls. The case was built specifically with custom-shaped internal foam pads that will absorb the brunt of the impact from drops and bumps. The outside of the case is not only sealed with solid silicone material but is also has heavy-duty latches to help keep water out and ensure that the case stays locked at all times.
You also don't have to worry about adding too much more of a load because the case isn't that much bigger than the camera. It was designed with portability in mind and will fit into most small bags, pouches, or suitcases. You will still be portable enough to get to where you are going. It also even includes a handy little carabiner clip just in the event that you want to clip the case on the outside of a pouch or bag.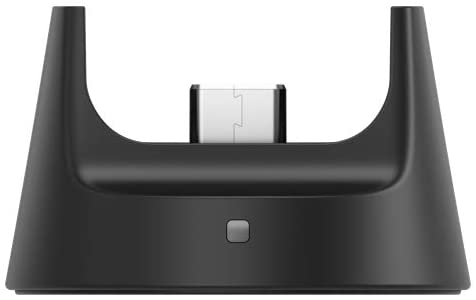 One of the biggest selling points of the ultra-popular action camera GoPro is the fact that it can be wirelessly tethered and controlled remotely from a smartphone. Well, guess what? So, can the Osmo Pocket Wireless Cam. The only difference is that you will have to purchase an additional module to make this possible. And, that is the module that is covered here. This module comes in the form of a dock and provides both Bluetooth and Wi-Fi capabilities, giving you the option of controlling the camera in a number of settings.
Speaking of the base design, the module will actually function as a base. So, you can set the camera down on any level surface and never worry about it tipping or falling over. This basically gives the module the ability to function as a portable tripod. Whether you are doing interviews or just filming yourself talking, this module will be the perfect accessories to make the job that much easier. There is also a Follow Me mode available with other various framing options. In some cases, you can even move around in the frame and not worry about the Osmo Pocket maintaining good shot composition.
Another major selling point for the module is that it can also function as a charging hub via the USB-C port. In fact, this is probably one of the most essential features that make the wireless module a must-have for any traveling filmmaker. This is another great asset in the sea of dji osmo pocket accessories.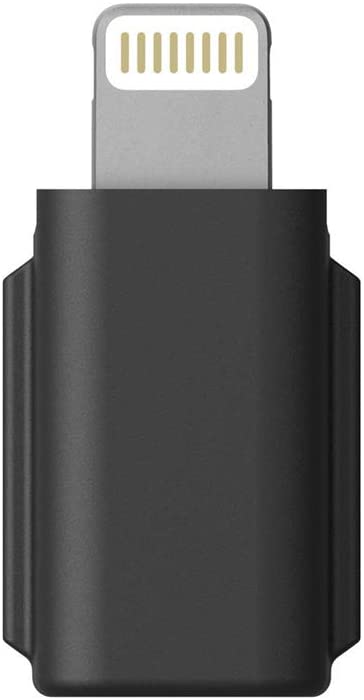 The small design of the Osmo Pocket is just one of the greatest things about it, but there is no overlooking the fact that the small design does come with some drawbacks. And, one of those drawbacks would be that it makes accessing the control quite challenging. The cam does feature an innovative LCD touchscreen along with multi-purpose buttons, but they are still hard to access. That is exactly where this smartphone adapter will come in handy. The adapter does come available in two different options, so you will need to evaluate your situation and see which is best before you make the investment.
The two available options would be the Lightning and Type-C. Unfortunately, there is currently no option that supports mini-USB ports, but this is surely something that you will see in the future. That aside, with the smartphone adapter, you will not only be able to easily access the control of the DJI cam, but you will be able to expand on them. The DJI Mimo app will give you access to brightness and exposure settings, smart shooting modes, and a ton of framing options.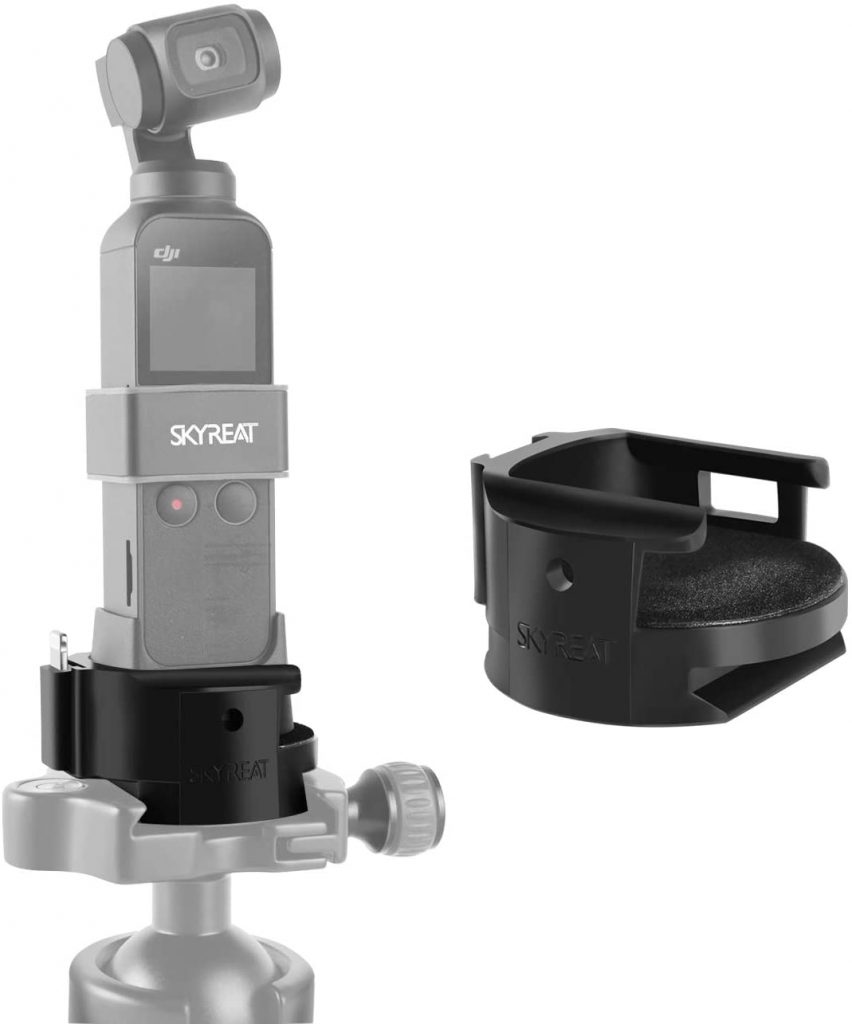 Unfortunately, the small size of the DJI also means that it is nearly impossible to add many accessories. There just simply isn't room for them. Well, you can change that with the Skyreat Tripod. This tripod will help you make more professional-looking videos by allowing you to attach more accessories. Don't worry about the Tripod adding too much more of a load because it is lightweight and sensible. It is constructed of durable aluminum to provide the utmost durability and reliability when it is needed. The handle of the Tripod also comes installed with grip material just to ensure that you always have hold of the camera.
However, if you don't feel like holding the camera, you don't have to because this device will actually double as a tripod stand. Located on the top of the Tripod, you will find a cold shoe interface. This interface gives you the ability to mount a microphone or LED lighting. There is also a ¼-inch screw hole located right behind the smartphone bracket that can accommodate other essential accessories. To put the cherry on top, all brackets are internally lined with EVA cotton and soft rubber. You can rest assured that your Osmo Pocket and smartphone will be seated comfortably and safely in this Tripod at all times. This is my personal favorite out of all the dji osmo pocket accessories.

When it comes to controlling the pan and tilt of the DJI Cam, you won't find anything better than the Controller Wheel. The Wheel is a small accessory that slides right into the accessory mount located on the camera itself. It includes an additional dial that will allow you to easily and precisely adjust the pan and tilt. Not only this, but there are two additional buttons available that will give you access to enhanced composition controls.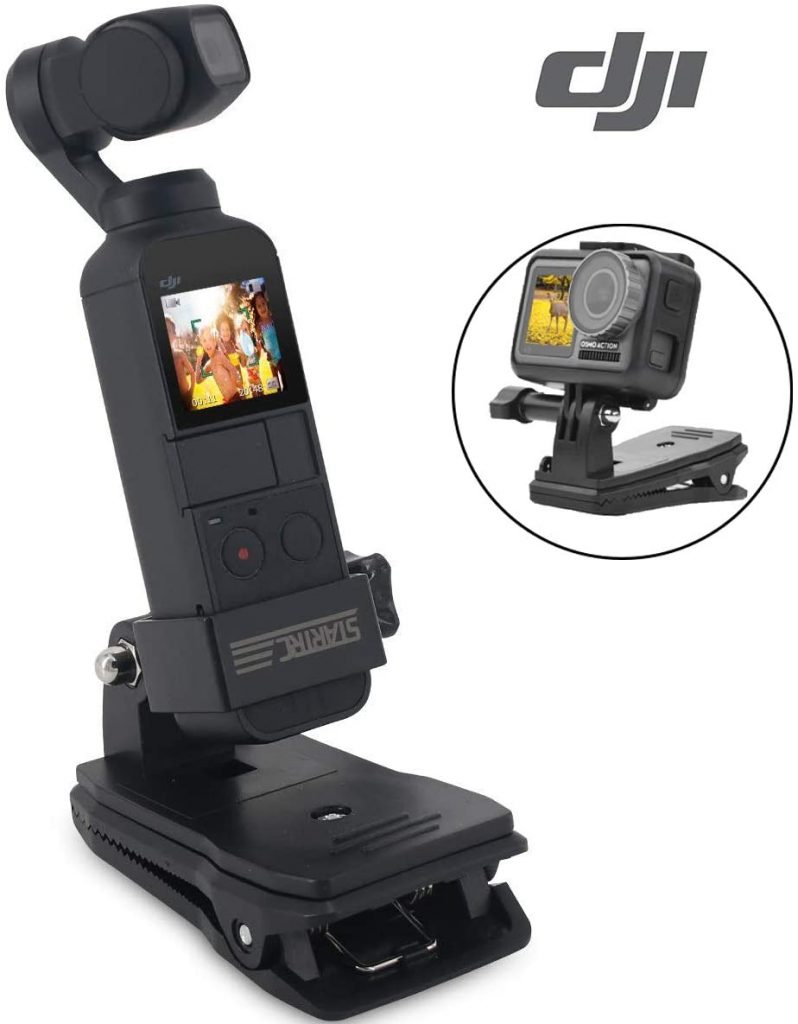 One of the biggest selling points of a portable action camera like this is the fact that it can greatly augment the mounting options. And, this is probably why the STARTRC is a must-have for on-the-go photographers. This bracket comes with a multi-purpose mounting clip that allows you to quickly and easily attach the camera to the strap of a backpack. This is something that will come in more than handy when you are trying to capture shots from a first-person perspective. All videos taken from angles like this will not only be unique, but they will offer a more immersive appeal.
This is just another huge selling point for this bracket. Just keep in mind that while this bracket was intended for installation on a backpack strap, it can be safely and securely installed on a variety of other surfaces. It can be attached to a chest pocket or the wind flap of a jacket. Whatever the situation is, this handy little bracket will greatly enhance your first-person shooting capabilities.

Whether you are looking to extend the reach of your Osmo Pocket or looking for higher, more unique shots, you cannot go wrong with this expansion stand. In fact, that is pretty much what this expansion stand is. It is nothing more than a glorified selfie stick, but it will come in handy for a variety of shooting compositions. The spring-loaded bracket for the smartphone along with the extendable bracket for the Osmo Pocket can even double as a tripod, so you can capture still shots or self-interviews with ease. Check out more reviews on accessories and film gear on the blog.
Snag the Best DJI Osmo Pocket Accessories and Start Shooting!
The entire setup includes anti-slip rubber pads that will ensure a firm grip at all times. Don't worry about adding too much extra weight because the aluminum design keeps the entire setup light and portable.
Thanks for taking a look and supporting the blog. Please reach out if you have any questions! Note, as an Amazon Associate I earn from qualifying purchases.